KYLE BUSCH
Thank You Heroes
HUNTERSVILLE, North Carolina (May 13, 2020) – Each weekend, Heather Pleasant tunes into NASCAR Cup Series races to root on her favorite driver Kyle Busch. Pleasant, an EMT who transports patients in and around Spartanburg, South Carolina, is a proud member of Rowdy Nation.
But with sports and NASCAR on hiatus during the COVID-19 pandemic, the tables of admiration have turned as Busch and millions across the country say thank you to all the nurses, doctors, EMT's, delivery drivers, grocery store workers and those who work in manufacturing for their tireless efforts during this unprecedented time.
While NASCAR has been silent since its last race March 8, Pleasant and her firefighter/EMT husband Chad Pleasant have an important role in the nation's fight against COVID-19 as frontline workers in their South Carolina community. Busch was able to reciprocate the fandom by changing the name on his firesuit in honor of Pleasant and the nation's frontline workers with his participation in a national campaign in cooperation with several other professional sports athletes through the Real Heroes Project.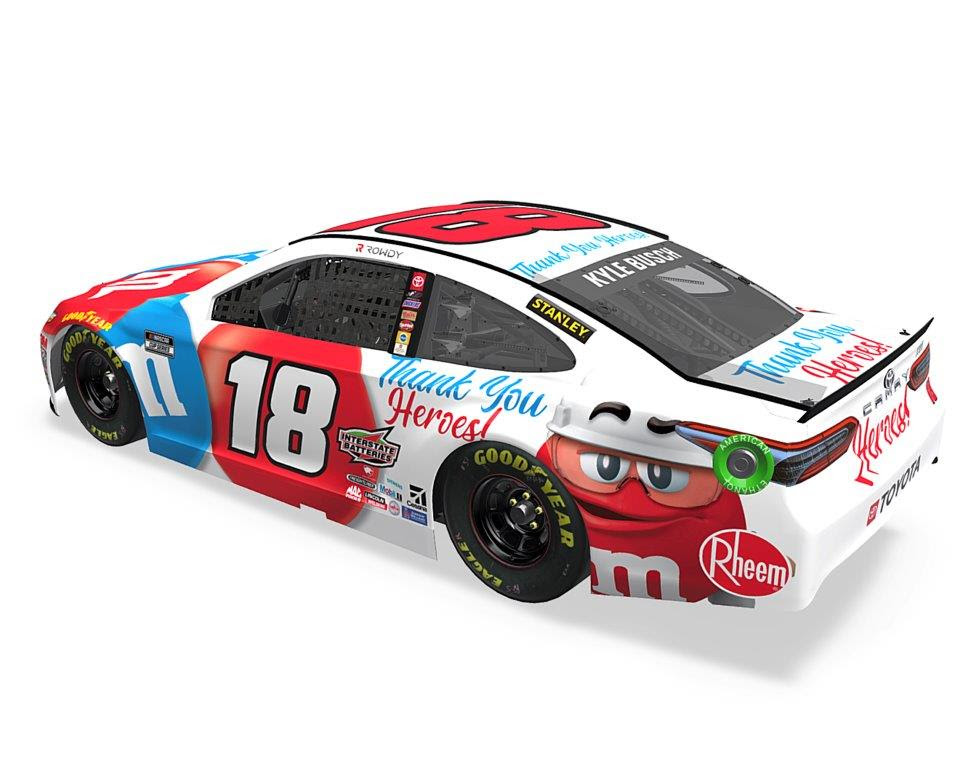 Busch, driver of the No. 18 M&M'S Thank You Heroes Toyota Camry for Joe Gibbs Racing (JGR), will do his part to honor Pleasant and the thousands of frontline workers as the Cup Series returns Sunday at historic Darlington (S.C.) Raceway. Everyone at M&M'S wanted to show appreciation to all those frontline heroes, who have been working around the clock during this pandemic with a special scheme adorning Busch's No. 18 M&M'S Toyota in Sunday's Darlington 400.
It's the first of several NASCAR national series events announced to run over the next two weeks. After Sunday's 400-mile race, which replaces the cancelled June event at Chicagoland Speedway in Joliet, Illinois, the Xfinity Series will run Tuesday, May 19, followed by a 310-mile Cup Series race on Wednesday, May 20, which replaces the cancelled April race at Richmond (Va.) Raceway. Next is the Cup Series's traditional Coca-Cola 600 on Sunday, May 24, followed by the Xfinity Series race on Monday May 25 and the Gander Outdoors Truck Series on Tuesday, May 26. Each of the seven events in 11 days will be one-day events with no practice, and only the Coca-Cola 600 will be preceded by a qualifying session.
Before the COVID-19 pandemic interrupted the season, the Cup Series had completed four races on the schedule. The season was put on hold following the March 8 race at Phoenix Raceway. Coming off last season's Cup Series championship, Busch and the M&M'S team had a rough start to their 2020 campaign with disappointing finishes of 34th and 15th at the season-opening Daytona 500 at Daytona (Fla.) International Speedway and the second race of the season at Busch's hometown Las Vegas Motor Speedway, respectively.  However, they rebounded in the next two races, bringing home second- and third-place finishes, respectively, at Auto Club Speedway in Fontana, California, and Phoenix, vaulting Busch up to 11th in the standings.
As Busch and the M&M'S Thank You Heroes team head back to action this weekend, they return to a place where they've won before and Busch has enjoyed recent success. The Las Vegas native has conquered "The Track Too Tough To Tame" with a Cup Series win in May 2008. It earned him the distinction of being the youngest Cup Series winner – at 23 years of age – in the track's storied history. Busch also has two Xfinity Series wins at Darlington, coming in May 2011 and 2013. In his most recent trip to Darlington in NASCAR's top series last September, Busch led a race-high 118 laps en route to a solid third-place run as he made contact with the outside wall trying to chase down JGR teammate and eventual race-winner Erik Jones in the closing laps.
So, as Busch takes an unexpected early season trip to the "The Lady in Black" for Sunday's 400-mile race, he knows that he and his team's experience will be an advantage after such a lengthy layoff. While his job is always to go out there and win the race, there are far bigger things going on in world. A trip to victory lane would be a small way for himself and longtime partner M&M'S to say "Thank You Heroes" to the men and women who continue to keep our country running throughout the COVID-19 pandemic.
KYLE BUSCH, Driver of the No. 18 M&M'S Thank You Heroes Toyota Camry for Joe Gibbs Racing: 
You are heading into Darlington to race without practice or qualifying beforehand. What are you expectations knowing this challenge?
"It will be different, for sure. The only time we've been in this situation was at Indy a few years ago. It's rained all weekend and we were forced to start the race on Monday without any practice or even qualifying. We were leading the points, so we started up front and we thought we might have an advantage because we had run so well there, but it didn't really go very well for us. A strength for our team is that Adam (Stevens, crew chief) and I really make gains on our car in practice, so it just puts more emphasis on unloading off the truck and guessing right for track and race conditions. The only difference here is that we know before the car leaves the shop that it's the situation we are in and it's the same for everyone. There are tons on variables that are unknown, too, so I'm sure we'll have some adjustability built into our car and try to plan for every scenario that we can. Just looking forward to getting out there with our M&M'S Camry. We want to thank M&M'S for the support of all the frontline workers who have kept us going during this pandemic. We just want to say thank you for everything the frontline workers have done and M&M'S has done a nice job recognizing them on our car."
What will be your mindset when the green flag flies, knowing that it's your first lap on the track?
"I think the mindset for turn one at the start of Darlington, and really all the races where we haven't been on track yet, would be to take it easy. It's a 400-mile race on Sunday and there will be plenty of time. Plus, my understanding is there will be a caution early for everyone to look over their tires and their car. We'll certainly take it easy until then because that will give us time to feel out how the car is handling and more confidence in how to drive again and get the right feel back under you again. It won't take too long to get acclimated again."
What have you been doing during the downtime to keep sharp physically and mentally for when racing returns?
"There have been a number of things I've been doing over the last couple of months. I've been working out around probably 90 percent of the days that we've been off. I've been continuing what I usually do as far as working out goes, so physically I'll definitely be ready. It takes a little time to get back into race shape, but being in good shape overall shortens that a bit. I've been doing plenty of iRacing over the last several months, too, so that should help a bit, as well. It's not exactly the same, but there are some principles that I can take from iRacing that will help me when we get back to racing. There has been a ban on all of the simulator testing until recently. I've been over to the TRD sim rig already, just getting some reps in there, as well."
With this much time off, you've had sort of a little bit smaller version of your normal offseason. How long will it take to get back to where you need to be?
"I'm looking at a lot like 2015. Being off for 11 weeks after the accident in Daytona and then coming back to racing the same weekend, actually. The biggest difference is that I'm not recovering from an injury and everyone else has had the same time off that I had. So I think I have a little bit of experience doing this even though it's not the exact same thing. As far as the feel at Darlington, it's probably going to feel a little bit like the beginning of the year again, but you don't really know until you get there and see how it feels."
Is there anything you've picked up from iRacing the last several weeks that may help you when you get back to racing at Darlington and beyond?
"Anything is a tool. You can use a tool any way you want. It's no different than running in the sim rig that Toyota and TRD and the other manufacturers have to simulate the real thing. This can be used in the same respect. You just have to know how to use it and how that tool can work for you. Trying to figure out and remember what I am used to doing on the real racetrack, and then coming to the iRacing sim and vice versa. It's all about reps and doing something repetitive to get better. Someone told me recently that one of the racers for the iRacing Pro League for NASCAR spent 2,000 laps of practice at a particular track and was getting better lap by lap and figuring it out. That's unheard of. Even when we go test in our real-life racecar – so let's use Bristol as an example as a short track – I might have run 300 to 350 laps and that's all you do in real life. So when you hear someone talk about 2,000, that's just an astronomical number in real life."
ADAM STEVENS, Crew Chief for the No. 18 M&M'S Thank You Heroes Toyota Camry for Joe Gibbs Racing: 
What have you been up to as you've been preparing the cars for Darlington?
"The biggest thing is that every race we prepare for is a unique event with our M&M'S Thank you Heroes Camry. Most of them have a unique tire, the body build, the setup of the car. So each and every weekend we prepare for is not like any other week. We do have the benefit that the car we are taking to Darlington is the car that we had prepared for Atlanta. It was already ready and loaded for Atlanta, so I would say most of the field is in the same boat where we were ready to race and had to go back home. So the first week won't be as huge of a task as it might be for a track that we had to run a different package on."
Atlanta was a long time ago, now. How do you get everyone back up to speed and ready for Darlington with such a long layoff and you guys not able to work on your equipment in the shop?
"Anytime you run a normal weekend, you have some kind of on-track activity before you race. I can count on one hand, actually one finger, how many times I've raced without any on-track activity and that was Indy a few years ago. That's a really stressful situation for a crew chief, and for a race team. You don't have any opportunity to dial in your balance or heights. As good as your sim tools are, they rely on information to get the correct answer. A lot of that information we get from tire testing and tire data and that gets fine-tuned as we have experience with the tire combination in the particular rule packages. That's something we just aren't going to have going into Darlington and we are going to have to make our best guess."
You return to Darlington after finishing third there last fall. Do you feel like you will be one of the teams to watch?
"We ran well there last year. I think we could have finished second but we were trying to pass the 20 car coming to the white flag and got passed. But we were pretty good. We were quick enough to race for the win and that's the box you have to check to be quick enough to race them for it. Not a lot has changed since we are on the same tire combination as last year, so we have run it before. The aero package as a company and how we are preparing the cars is the same from the data we have from earlier this year at other places. So hopefully we have enough similarities that we can extrapolate from last year's package and we can come up with a balance that will run well."
Do you get concerned that you can't touch the car once you get to the track, that everything is where it needs to be before going out to race?
"We have that car in the shop. It will be in the best shape as we can possibly get it with brains and hands by virtue of working on it for a week or two before the race. The proof's in the pudding, and we don't get to prove anything until the race starts. It's really easy to unload on any given weekend and not have your ride heights quite right or the balance quite right, but it doesn't matter because you have a couple of opportunities to fix it before qualifying or before the race and we just aren't going to have that luxury. We are just going to have to be a little more descriptive with the setup and make sure it has a lot of adjustability built in and be able to adjust on the fly."
How is it working with how you have it set up with guys at the shop and yourself and the guys who go to the track?
"Some people were allowed back in on Friday, May 1. We've being really proactive as far as splitting up groups and not letting them intermingle. And anybody who can work from home is supposed to work from home and I certainly fall into that group. Up until the time we hit the racetrack, I really don't need to be at the shop. It's a little bit more difficult because it takes more time and communication but I can work from home most days and so can my engineers. There are certain people who don't have that luxury who need to be there. For those people, we make sure the minimum amount is there in the building at any one time. We make sure everything is properly cleaned during the shift and in-between the shift to keep everyone separated as much as we possibly can."
M&M'S Thank You Heroes Racing
Race 5 of 36 – Darlington 400 – Darlington
Car No.: 18 – M&M'S Thank You Heroes Toyota Camry

Teammates:  Denny Hamlin – No. 11 Toyota Camry; Martin Truex Jr. – No. 19 Toyota Camry; Erik Jones – No. 20 Toyota Camry.

At-Track PR Contact: Bill Janitz, True Speed Communication (704-875-3388 ext. 803 or Bill.Janitz@TrueSpeedCommunication.com).
Primary Team Members:

Driver: Kyle Busch

Hometown: Las Vegas

Crew Chief: Adam Stevens

Hometown: Portsmouth, Ohio

Car Chief: Nate Bellows

Hometown: Fairfax, Vermont

Spotter: Tony Hirschman

Hometown: Northampton, Pennsylvania

Over-The-Wall Crew Members:

Gas Man: Matt Tyrrell

Hometown: Fort Lauderdale, Florida

Front Tire Changer: Cam Waugh

Hometown: Johnstown, Colorado

Jackman: T.J. Ford

Hometown: Charlotte, North Carolina

Tire Carrier: Joe Crossen

Hometown: Salisbury, North Carolina

Rear Tire Changer: Jeff Cordero

Hometown: Salem, Connecticut
The Darlington 400 will mark Kyle Busch's 539th career NASCAR Cup Series start and his 16th NASCAR Cup Series start at Darlington (S.C.) Raceway.
Busch has career totals of 56 wins, 32 poles, 202 top-five finishes, 298 top-10s and 17,446 laps led in 538 career Cup Series races. His most recent Cup Series win came in November at Homestead-Miami Speedway, resulting in his second Cup Series championship. Busch's most recent pole, the 32nd of his career, came in November at Phoenix Raceway.
Busch has one win, four top-five finishes and 10 top-10s and has led a total of 716 laps in 15 Cup Series starts at Darlington. Busch's average Darlington finish is 11.1.
2019 Darlington:When NASCAR's top series last raced at Darlington in September, Busch led once for a race-high 118 laps. Busch's lead was late in the race, but he lost it to JGR teammate and eventual race-winner Erik Jones during a round of yellow-flag pit stops on lap 277. He restarted third on lap 281, and later moved himself up to second behind Jones. However, with less than five laps to go, Busch scraped the wall trying to catch Jones and he dropped to third when the checkered flag fell.
Where we left off: While Busch started off the season with disappointing finishes of 34th and 15th-place at Daytona (Fla.) International Speedway and Las Vegas Motor Speedway, respectively, he rallied for strong runs in the next two races. The Las Vegas native brought home a season best runner-up finish at Auto Club Speedway March 1 in Fontana, California, and followed it with a solid third-place finish March 8 at Phoenix Raceway. The Phoenix result moved him to 11th in the driver standings. The Phoenix race was the last event before racing was suspended due to the COVID-19 pandemic.
56 Career Cup Series Wins: With his Cup Series win at Homestead in November, the 56th points-paying win of his career, Busch passed NASCAR Hall of Famer Rusty Wallace for sole possession of ninth place on the all-time win list in NASCAR's top series. Next up for Busch on the list is eighth-place Dale Earnhardt, who had 76 wins during his Hall of Fame career. With his 40th Cup Series victory at Bristol (Tenn.) Motor Speedway in August 2017, Busch became the fourth-youngest driver to reach 40 Cup Series wins at 32 years, 109 days, behind only Richard Petty, Jeff Gordon and Herb Thomas.
All-Time JGR Wins Leader: With his Brickyard 400 win in July 2016, Busch passed Stewart for most all-time Cup Series wins for JGR. Busch now has 52 wins for JGR to Stewart's 33 following his most recent win at Homestead last year.
209 and Counting: Busch enters Darlington with 209 career wins among NASCAR's top three divisions – Cup (56), Xfinity (96) and Truck (57) – following his Truck Series win at Las Vegas Motor Speedway back in February.
Total Page Visits: 54 - Today Page Visits: 1