• Event:  eNASCAR iRacing Pro Invitational Series
• Time/Date:  1:30 p.m. EDT on Sunday, March 22
• Location:  Virtual Homestead-Miami Speedway (1.5-mile oval)
• Distance:  100 laps (150 miles)
• FS1 (DIRECTV Channel 219 and Dish Channel 150)
■  Announcers: Jeff Gordon, Mike Joy and Larry McReynolds, with in-race commentary from Clint Bowyer.
• The eNASCAR iRacing Pro Invitational Series is an exhibition esports series featuring a collection of actual racecar drivers from the NASCAR Cup Series, NASCAR Xfinity Series and NASCAR Gander RV & Outdoors Truck Series.
• While the eNASCAR iRacing Pro Invitational Series kicks off on Sunday at the virtual Homestead-Miami Speedway, it will be a multi-week series emulating the original 2020 NASCAR Cup Series schedule.
• With the sports world on a necessary hiatus to combat the spread of the coronavirus, the eNASCAR iRacing Pro Invitational Series exists for the drivers to have a bit of fun until the return of their respective series.
• Each race in the eNASCAR iRacing Pro Invitational Series will consist of 35 drivers.
KYLE BUSCH, Driver of the No. 18 M&M'S Camry in the eNASCAR IRacing Pro Invitational Series:
You got into the iRacing simulator for the first time this afternoon (Saturday). What did you learn and who is helping you out?
"I've never done iRacing before and I don't even have a setup. Fortunately, Ty Gibbs has a setup that I was able to practice on this afternoon for the first time. The biggest thing I learned is that lap-one, cold tires is "ice," then it feels good for about 10 laps, and then the car gets really tight. Since you can't change the setup, it's really going to be tricky to figure out the balance of me fixing that. Thankfully, Ty Gibbs, 'Boris' (Bryan Cook, JGR Chief Digital Officer) and my Cup car engineer William Hartman, are big into iRacing and they were also helping me learn this afternoon – trying to get all the basics down of practicing pitting, restarts and everything I need to know. You aren't going to learn it all in a few hours. These guys that are really good at iRacing do it on a regular basis, they've done a ton of work to get as good as they are. It's cool to get our virtual M&M'S Camry out there and have some fun while trying to learn a new trade."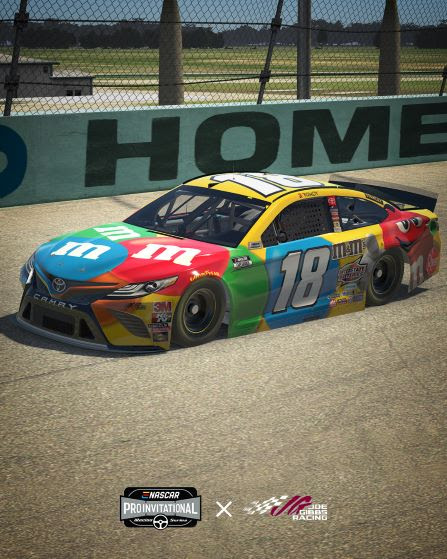 • This will be Busch's first official iRacing start in a virtual NASCAR Cup Series race.
• Busch's Rowdy Energy Drink is a sponsor on the No. 51 Toyota driven by Malik Ray in the weekly eNASCAR Coca-Cola iRacing Series for Joe Gibbs Racing with Interstate Batteries as a sponsor on the No. 18 Toyota driven by Graham Bolin.
• In actual NASCAR Cup Series racing at Homestead, Busch has two victories, including last year's season-finale when he clinched his second title in NASCAR's top series.
Total Page Visits: 69 - Today Page Visits: 1